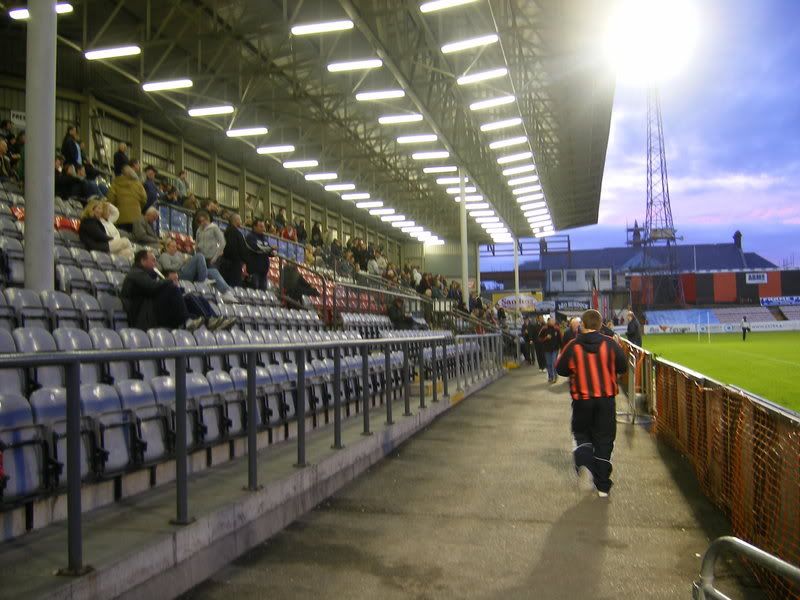 When it was announced
pre
-season that
Shelbourne
were to play their football in the First Division this year I think I was probably one of the only
Bohs
fans that was actually disappointed. Although I'd been to quite a few games at
Dalymount
in the previous two seasons, I had never managed to make it along to a meeting of
Bohs
v
Shels
. I'd heard and read
alot
about the rivalry and I was dying to experience it for myself. However, with
Shels
in a state of major transition and looking like they won't be back in the top flight for quite some time, it seemed certain that I'd have to wait quite a while for that dream to come true.
I was therefore delighted a few weeks back when I saw the draw for the second round of the
Eircom
League Cup. If
Bohs
were able to see off Bray Wanderers at home in the first round they would then play
Shelbourne
at
Tolka
Park.
If that wasn't incentive enough for
Bohs
against Bray on Tuesday night, then the opportunity to get revenge for the 1-0 League defeat earlier in the season surely would be.
Since that defeat in the middle of March (arguably the only blot on
Bohs
' season so far),
Bohs
had taken 10 points from a possible 12 and had started to show signs of real improvement.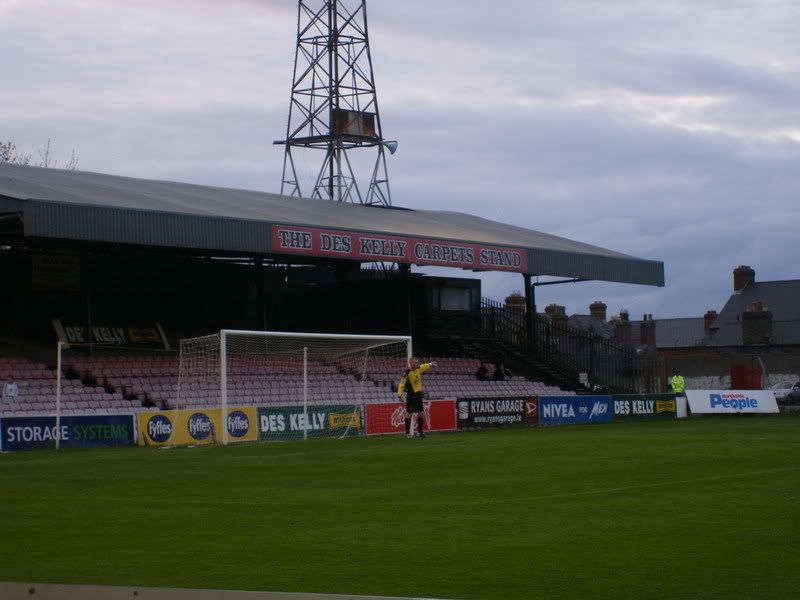 I found it interesting to read before the game that
Bohs
were likely to make several changes for the game. Back in Scotland the League Cup is very much treated as a lower priority by the bigger teams and it was clear that this was also the case here in Ireland. I found this strange as I thought
Bohs
, who have not won a trophy in several years, would see the League Cup as a great opportunity to win some silverware. I have to admit as a Celtic fan that I have usually been quite dismissive of the League Cup myself over the years. It's always nice to win it, but I've always thought that it was only an important competition if you had no chance of winning anything else. Chances are, if I was back home and Celtic had been playing a lesser team in the
CIS
Cup on Tuesday night, I wouldn't have bothered going either.
Not for one minute did I even contemplate missing
Bohs
v Bray though. Even if it was just the League Cup, it sure sounded better than being made to watch
Eastenders
or a documentary about doing up your house for 20 quid!
When I first started going to Celtic matches, it was usually the likes of League Cup games that my Dad would take me to. The main reason for this was that it was easy to get tickets. Such games were very rarely covered by season books, meaning that many fans chose to stay away rather than fork out even more money. When I walked into
Dalymount
Park on Tuesday it seemed as though it was exactly the same here. Normally its a struggle to find a seat in the F&G sections of the Jodi, but tonight I was met by an almost empty stand. By this point, the match had already started, and with
Bohs
on the attack, I grabbed a seat near the front and turned to watch the action.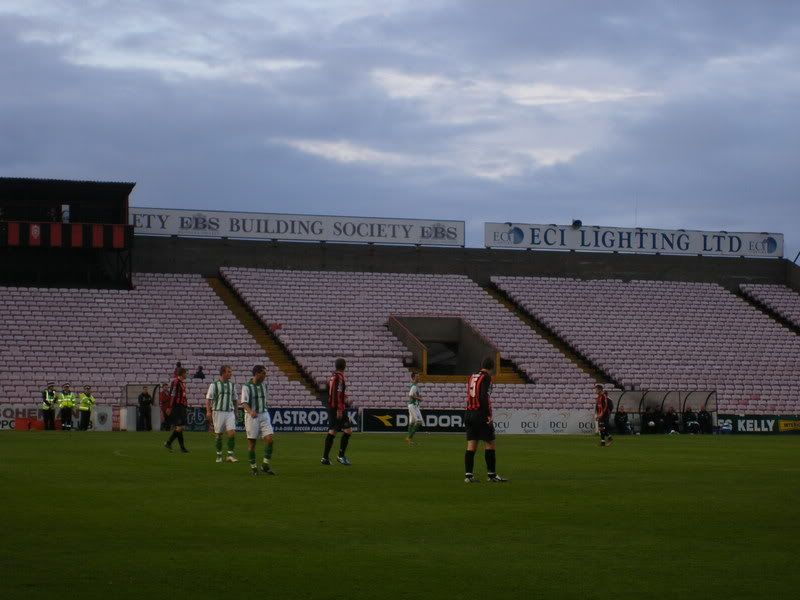 Connor had indeed rung the changes - six in total. I was happy to see that Darren
Mansaram
had been given a start as he had performed well as a
substitute
in the previous few games. Meanwhile, on the bench was
Harpal
Singh, a player who I'd liked the look of during
pre
-season. Indeed, I'd known of the former Leeds United winger for a number years as he had been played a key role in my Leeds United side that had won the European Cup and back-to-back Premiership's in Championship Manager 4!
I'll not do too much of a report on the game here as there is already a fine article on the match at
Irish Football Online
.
Bohs
started the game well though and, despite the changes, were really taking the game to Bray.
Mansaram
and
Kingsberry
both went close early on, while Neil
Fenn
was showing some excellent touches in attack.
Bohs
took a deserved lead in the 29
th
minute when
Mansaram
finished well from 8 yards. Just 13 minutes later and it was two nil.
Kingsberry
tricked his way into the box and the ball broke again to
Mansaram
who turned and rattled the ball home with aplomb. I'd barely sat back down and it was three. A long ball over the top allowed the pacey
Kingsberry
to run straight through on goal and he confident stroked the ball past the Bray keeper. It was a goal
Kingsberry's
performance deserved and the 3-0 scoreline at half-time didn't flatter
Bohs
in the slightest.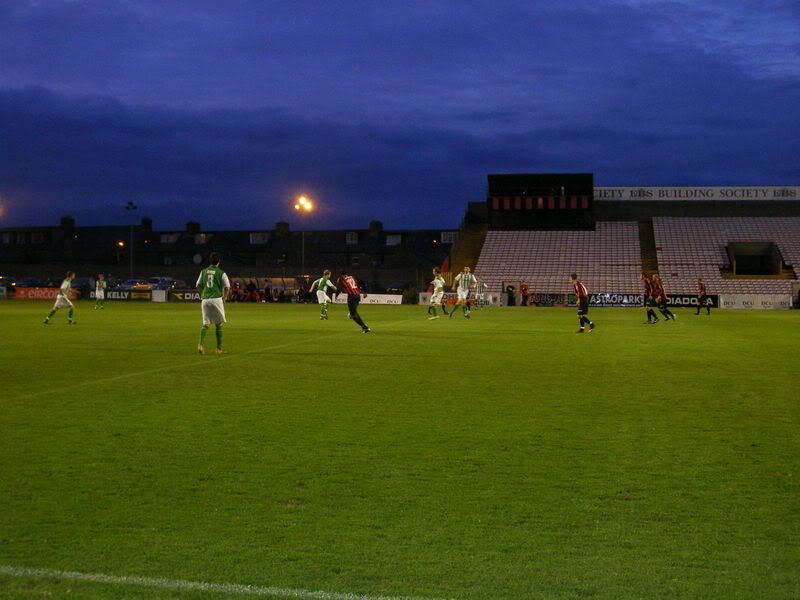 The atmosphere, as you can imagine, was fairly flat. However, on a few
occasions
the fans in the back corner of the Jodi did do their best to rouse the natives with chants of "the
Boh
-s" and "Black Army, Red Army". At half-time i went in search of the toilet and stumbled into what I quickly realised was the members bar. I'd read a fair bit about this place on the message board, so it was good to see what it actually looked like. I only had a quick look around but some of the framed pictures and shirts on the walls were pretty cool. There was one in particular which stood out, a painting of captain Kevin Hunt lifting what I assumed to be the league trophy. It made we wonder whether
I'd
ever get to see such a sight in person. Who knows, maybe in November!
The second half was a fairly low-key affair, although both sides continued to make chances. Rather than lie down, Bray looked to attack and bar for some good saves from young Lee Boyle in the
Bohs
goal, they could have pulled at least one back.
Bohs
themselves could, and probably should, have added to their tally too. Substitute Singh should have had at least two himself.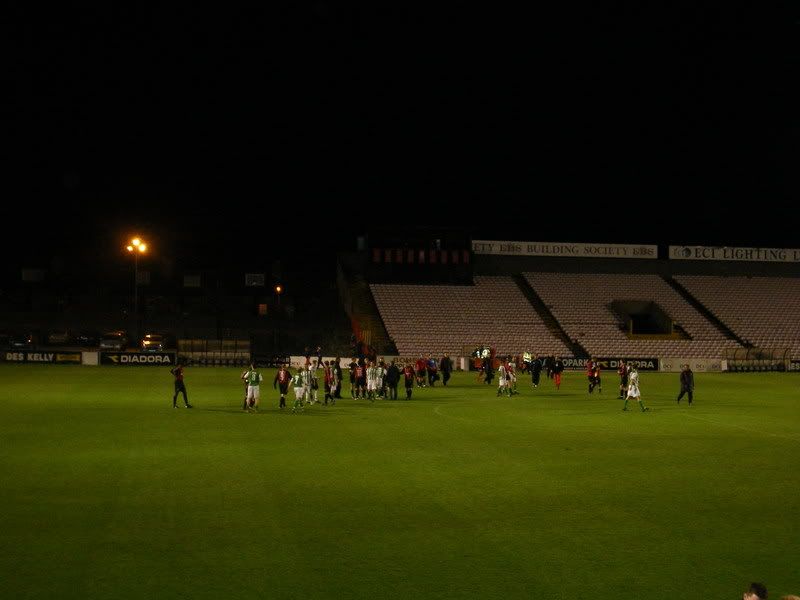 The hard work had been done in the first period though and
Bohs
were coasting into the second round. Bray grabbed a consolation in stoppage time, but it was a case of too little too late.
On my way back to the car I started to look forward to the
Shelbourne
game and my first trip to
Tolka
Park on the 8
th
of May. I'm pretty sure the
Bohs
fans will be back out in force for that one. Games against your biggest rivals are one of the things that football fans look forward to most. A season without at least one game against Shels just wouldn't have been right.
Next up on Friday night is a home game against bottom-of-the-table
Galway
United in the
Eircom
League. A chance for
Bohs
to move up the table and, who knows, maybe a step closer to Kevin Hunt lifting a trophy at the end of the season. A man can dream!