It was about this stage last season that my interest in
Bohs
began to wane. Much like this season, I had set out at the start of the campaign with the aim of getting to as many games as I could. It didn't quite work out though and between April and the end of the season I only made it along to
Dalymount
about three or four times.
The type of football being played under Gareth
Farrelly
was enough to make even the most
die hard
Bohs
fan consider whether to keep going to games, so it is perhaps no surprise that a newcomer such as myself chose to stay away.
What a difference a year makes though. These days, Friday night's really can't come round quick enough. The first few weeks of April had been a good time to be a Bohs fan. On the pitch it had began to look like the players in red and black actually knew what they were supposed to be doing - something I'd seen very little evidence of during the
Farrelly
era - while off it, the new management were also starting to show signs that they were capable of turning the club's fortune around. On the terraces, meanwhile, there also appeared to be a bit of confidence and excitement creeping in.
Bohemians went into the game against
Galway
last Friday on a good run of form. Three league wins in a row, followed by a decent draw away to league leaders St Pat's, had moved
Bohs
within five points of the top.
Week-by-week the performances had also been gradually improving,
culminating
in the hugely impressive showing against St Pat's.
The feeling I had walking in to the ground for the game against
Galway
United
last week was therefore something pretty new to me as a
Bohs
fan. For probably the first ever time, I arrived at
Dalymount
not just hoping for a win, but expecting a win.
Had this been last season I would probably have chose to spend the warm sunny evening on the golf course or, even more likely, in a beer garden somewhere. Not these days though. Friday night means
Eircom
League of Ireland. Friday night means Bohemians. Regular readers of the blog will perhaps be surprised at how quickly I've become attached to
Bohs
. In fact, if I'm being totally honest, it has surprised even me. A win puts me on cloud nine, a loss means a kick for the dog and a long weekend for the missus.
Having enjoyed the atmosphere in the Jodi Stand during the last home League game, I decided to head back there on Friday night. I headed down to the ground a little earlier this week so I was able to get a better seat. Sections F & G seem to be where all the noise comes from so I grabbed a seat in the middle of those.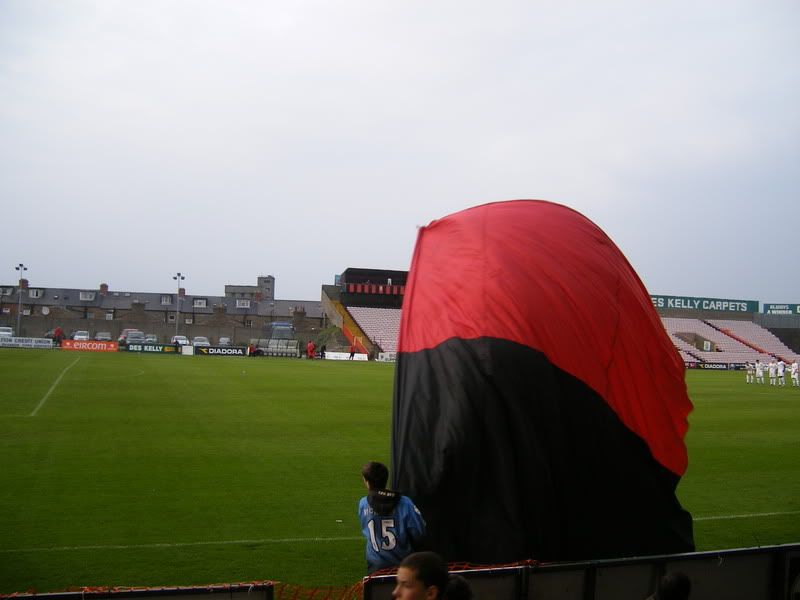 Dalymount
is the number of flags that are put up around the ground.
Dalymount
, like many of the old grounds in the lower leagues in Scotland, has one stand which is closed off. Rather than leave this as an empty grey reminder of the days when the Irish public actually took an interest in their own teams the club allow fans to hang their banners and flags on the rusted crush barriers. Not only does this add a splash of colour to the ground, but, in a way, it also adds to the atmosphere. Before the game on Friday a group of young fans also stood on the touchline waving huge black and red flags (see pic above). For a moment it felt as though I was in the San
Siro
, however, the smell of greasy chips from the burger van and the shocking start made by
Bohs
soon brought me back to reality.
Bohs
saw
alot
of the ball in the opening stages but were unable to create any real clear cut chances. Long shots from John Paul Kelly and Chris
Kingsberry
were about as much as they could muster. Just as I had turned up simply expecting a victory, it seemed as though the players had too. However, they were made to pay for their sluggish start just before the half hour mark when
Galway
won a soft free-kick on the edge of the
Bohs
18-yard box. It was their first sight of the
Bohs
goal, but they certainly made it count, with Alan Murphy drilling the ball under the wall and into the net. My initial hope was that this would serve as a wake up call to
Bohs
, however, the away side looked more like adding a second than
Bohs
did of equalising.
After the break things got little better and
Bohs
were looking more like the team from last season than the one that had outmatched the league leaders the previous week. Simple passes were going astray and there seemed to be a real lack of urgency about
Bohs
' play. Just as it seemed that the game was slipping away though,
Bohs
grabbed an equaliser. A cross came in from the left and Owen
Heary
somehow managed to loop the ball home. Relief more than anything seemed to be the general feeling of the fans around me.
Bohs
huffed and puffed in the remaining minutes and had a strong claim for a penalty waved away, however, the game was to end even. Just as I had done last week, I spent the journey home trying to decide whether it had been a case of two points dropped or one gained.
After the game I read someone describe
Bohs
season so far as Jekyll and Hyde. After Friday night's performance I would be inclined to agree with that assessment. If
Bohs
are to challenge
for honours this season then these are undoubtedly the kind of games that we should be winning. That said though, had this been Gareth
Farrelly's
side of last season I'm all but convinced that
Bohs
would have lost this game.
The draw means that
Bohs
are now unbeaten in the league in five games, however, it also puts a little more pressure on the team to get all three away to Derry City on Friday night.
To see the goals and hear the post-match thoughts of Owen Heary and Sean Connor, click
here
.